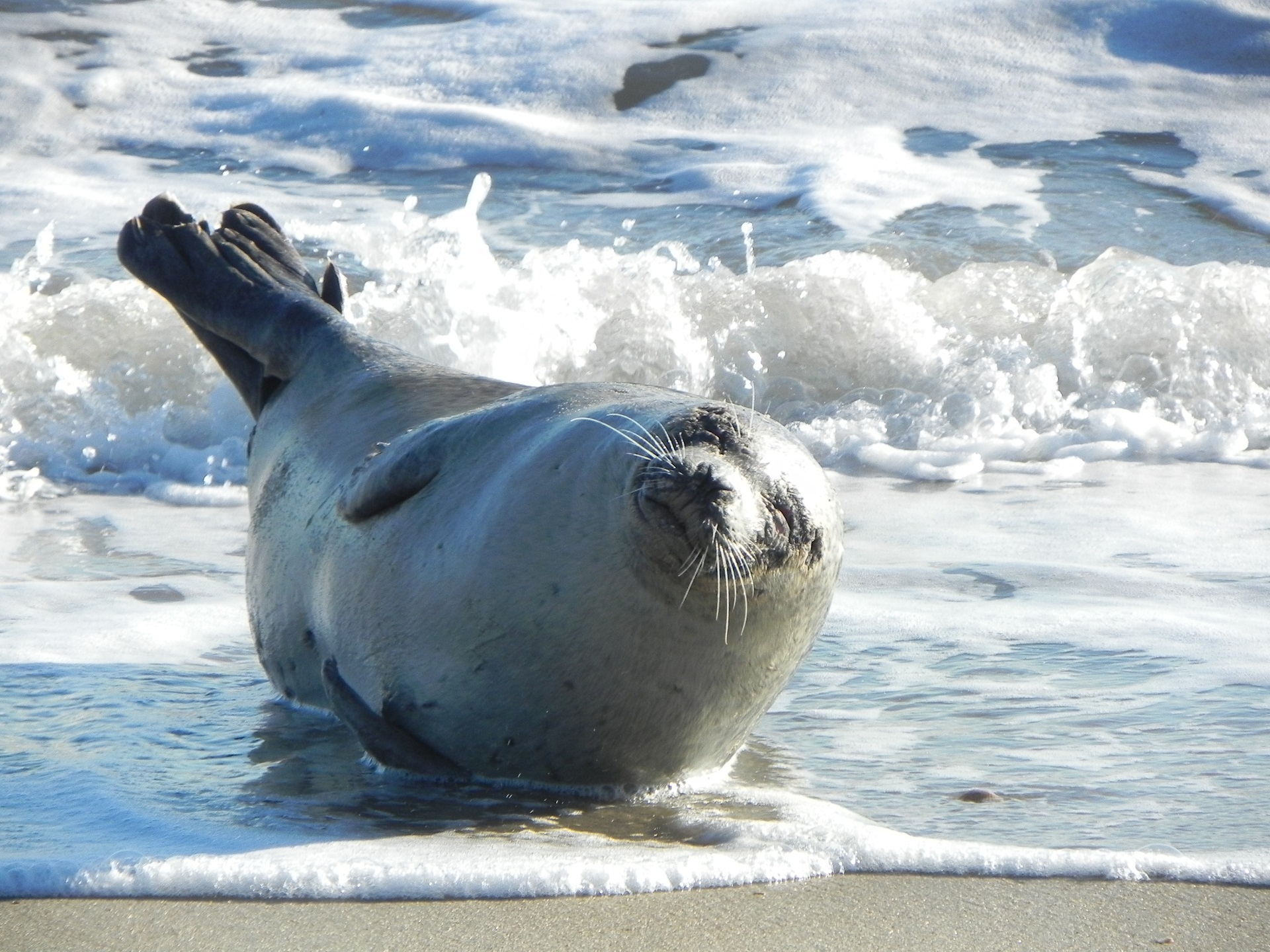 Latin name: Phoca vitulina
The harbour seal, also known as the common seal, is a true seal found along temperate and Arctic marine coastlines of the Northern Hemisphere. The most widely distributed species of pinniped (walruses, eared seals, and true seals), they are found in coastal waters of the northern Atlantic and Pacific Oceans and the Baltic and North Seas.
Description
Individual harbor seals possess a unique pattern of spots, either dark on a light background or light on a dark. They vary in color from brownish black to tan or grey; underparts are generally lighter. The body and flippers are short, heads are rounded. Nostrils appear distinctively V-shaped. As with other true seals, there is no pinna (ear flap). An ear canal may be visible behind the eye. Including the head and flippers, they may reach an adult length of 1.85 meters and a weight of 55 to 168 kg. Females are generally smaller than males.
Behaviour
There are an estimated 350,000–500,000 harbor seals worldwide. While the population is not threatened as a whole, the Greenland, Hokkaidō and Baltic Sea populations are exceptions. Local populations have been reduced or eliminated through disease (especially the phocine distemper virus) and conflict with humans, both unintentionally and intentionally. Killing seals perceived to threaten fisheries is legal in the United Kingdom, Norway, and Canada, but commercial hunting is illegal. Seals in the United Kingdom are protected by the 1970 Conservation of Seals Act, which prohibits most forms of killing. In the United States, the Marine Mammal Protection Act of 1972 prohibits the killing of any marine mammals and most local ordinances, as well as NOAA, instruct citizens to leave them alone unless serious danger to the seal exists.